JAMES GOSS PTY LTD Underpinning and structural repair specialists


Underpinning and Structural Repair methods:
Underpins with a headstock to a depth determined by the Engineer
Mass concrete underpins
Screw pier underpins on difficult sites , Sand, wet ground, Unstable ground
Pressure grouting; To lift a sunken house slab or fill a large void after jacking
Root barriers to help stop the soil drying out
Cut off wall: To help stop the moisture drying out under your concrete slab
All work is Engineer designed inspected and certified. The Engineers certificate is handed over after the underpinning work is complete.
We have machines for limited access and are able to install internal underpins if required by the engineer.
The machines can work under a height of 1.5 and can bore a hole to 3 metres; we have special augers for this process.
This machine is very good for re-stumping houses with a low working height.
Work is commenced by boring a hole in the ground to the Engineer's recommended depth. The soil under the footing is then removed. A steel cage is then placed in the bore hole and under the house footing. Concrete is then poured to the underpins of the existing house footing leaving a gap to place the jack.
Boring underpin holes to a depth of 4 metres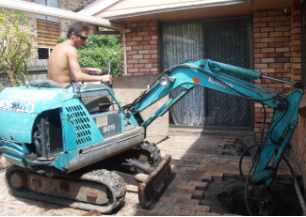 Clean-out Auger to make sure the bases
of the holes are free of loose material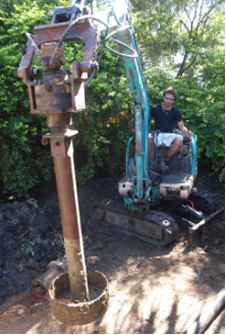 Steel being placed prior to
Engineers Inspection and concrete pour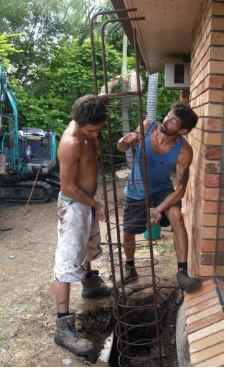 Screw Piers used on sites where the bore hole is not stable and may cave in, sand sites, fill site or excessive moisture in ground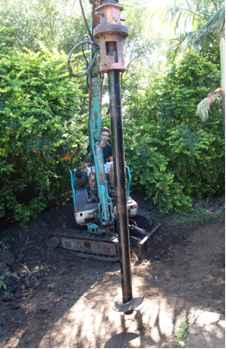 Internal underpinning as requested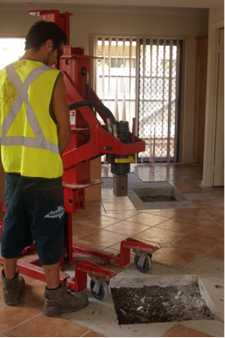 Steel cage in place going under the footing.
A gap is then left between the underpin and the old footing for the jack to be placed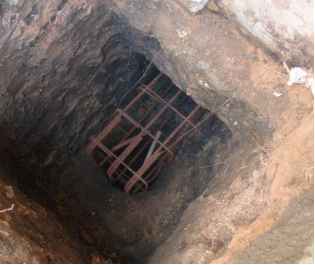 Concrete is left for about 7 days giving the concrete time to cure.

Jacks are then placed between the new underpin and old footing. Levels are then taken on the brickwork or the internal house slab.

The footing is then jacked to close up the brickwork cracks. If the door or windows were jamming or sticking making them hard to open, jacking will be stopped when all doors and windows are operating freely.

Steel packers are then placed beside the jacks and the jacks removed. The gap between the underpin and footing is then dry packed. The site is then backfilled with all debris removed.